Everlan of Louisville is where luxury meets Southern charm in the heart of Kentucky. We are proud to offer an exceptional senior living experience for those seeking a relaxed and upscale retirement community. We offer both assisted living and active independent living. Louisville- area neighborhoods like Kiwi Valley, Anchorage, Highview Cold Stream, Prospect, and Glenview are all conveniently close by.
Our goal is to provide a vibrant and engaging lifestyle while ensuring the highest level of care and assistance for our residents. Let's explore what sets Everlan of Louisville apart and why it's the perfect place to call home.
Amenities and Services Like No Other
At Everlan of Louisville, we believe in creating an atmosphere of modern luxury paired with the warmth of Southern hospitality. Our residents enjoy a wide range of amenities and services designed to enhance their lives and make every day extraordinary. Imagine maintenance-free living with luxurious apartments featuring contemporary designs, stainless steel appliances, and plenty of storage space.
Additionally, our community offers a fine dining restaurant, a casual bistro, a salon for pampering, a fitness center to keep active, and even a dog park for furry friends. We also provide housekeeping services, assistance with daily living activities, and on-site rehab and health services to ensure our residents' well-being. When considering independent living, Louisville seniors have a comfortable and convenient choice that allows them to easily age in place.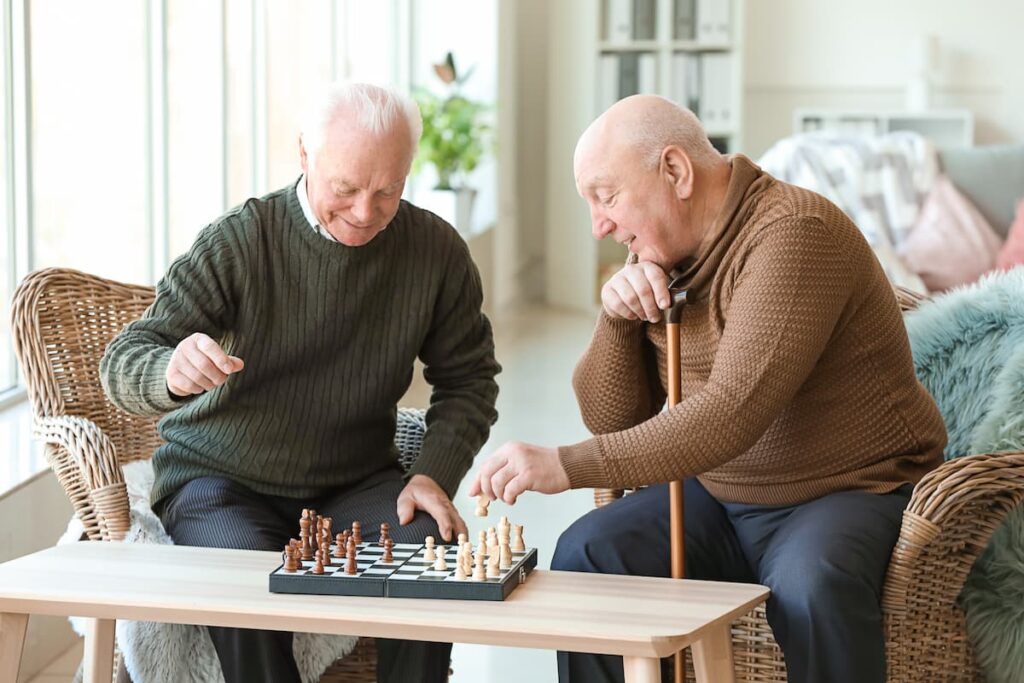 Stay active
At Everlan of Louisville, we understand the importance of staying active, social, and engaged. That's why we go above and beyond to offer a variety of activities and programs that cater to different interests and preferences. Our community hosts parties, social hours, and community events where residents can connect and make lasting friendships.
For those seeking creative outlets, we provide arts and crafts sessions. We also organize group wellness activities, trips, and outings to nearby attractions, allowing our residents to explore Louisville as well as the nearby cities of St. Matthews and Prospect.
Rest assured
The well-being of our residents is our top priority. Everlan of Louisville ensures resident security with our 24-hour emergency response system. Families can have peace of mind knowing that their loved ones are in a secure and caring environment.
To make life easier for our residents, Everlan of Louisville offers scheduled transportation to and from doctors' appointments. This convenient service allows residents to attend their medical visits without any worries.
See yourself at home
For those seeking a comfortable and resort-like retirement lifestyle, we are here for you. We understand that everyone's needs are unique, which is why we offer a bevy of amenities. Our experienced and compassionate staff also takes the time to understand individual preferences and requirements to provide the highest level of care and assistance.
Modern apartments with walk-in closets, daily activities, flexible dining options, and community amenities like a fitness center, salon and spa, dog park, and theater make daily life more like a vacation. Residents can meet new friends and stay as active and socially engaged as they choose to be while living in comfort.
Plan ahead
Should your personal needs ever change, you can easily age in place at Everlan of Louisville. The value of peace of mind that your needs will be met without having to move to another community is priceless. We also offer support to family members and caregivers, ensuring they are part of the caring and supportive community we have built.
"Everlan of Louisville is so beautiful and truly state-of-the-art! Because they have so many floorplans, you can truly find the best fit for you. They promote an active lifestyle for independent seniors, and a network of assisted living locations when and if that is needed in the future for peace of mind."- Phoebe B., Google review. 
Retirement should be about enjoying life and doing without some of the daily hassles like housekeeping, cooking, and home maintenance. Now's the time to rest, relax, have fun, and set some of those worries aside.
At Everlan of Louisville, we strive to provide a luxurious and engaging retirement experience for our residents. With upscale amenities, personalized care, and a vibrant community, we offer a home where seniors can thrive and enjoy their golden years. If you're seeking assisted living or independent living, Louisville-area residents have a premium choice for senior living. Look no further than Everlan of Louisville.
Come experience modern senior living at its finest.
Contact us today to schedule a visit and see how great retirement can be in independent living. Louisville's finest awaits.